Sale!
Petsies Custom Stuffed Animals
$249.00
Get a custom stuffed animal made of your three legged dog or cat from a favorite photo with Petsies coupon code.
Description
Create a one of a kind custom stuffed animal from a photo of your three legged dog or cat with a custom plush replica of your pet from Petsies.
A portion of proceeds from your purchase helps keep your Tripawds community online!
Petsies are handcrafted soft and adorable, one-of-a-kind plush version of your pet. All Petsies are truly unique creations. The talented designers and seamstresses custom-make and hand-sew every Petsies plush to match your pet's likeness.
Petsies specializes in creating custom plush pets, big & small: dogs, cats, horses, rats, birds… They can make a custom plush of any pet. Buy with confidence. Every custom stuffed animal is backed by the full Petsies Craftsmanship Promise.
Approx. Size: 10″ and 16"
Materials: Premium polyester furs and specialty noses and eyes, combined with full airbrushing to capture even the smallest of details.
Turnaround Time: It can take anywhere from 5 – 10 weeks, but we'll give you a more accurate delivery date before you check out and will keep you updated every step of the way. Because all Petsies are unique and done by hand, the time it takes to complete depends heavily on demand and the complexity of your pet's design.
The Creation Process: It's SUPER easy! All you have to do is send us the photo of your pet (via email or text message) that you want us to create your Petsie of, and we'll take over the rest. Making the perfect Petsies plush takes time, dedication and many challenging steps. To keep you happily in the loop, we will send you email updates throughout the entire design and sewing process!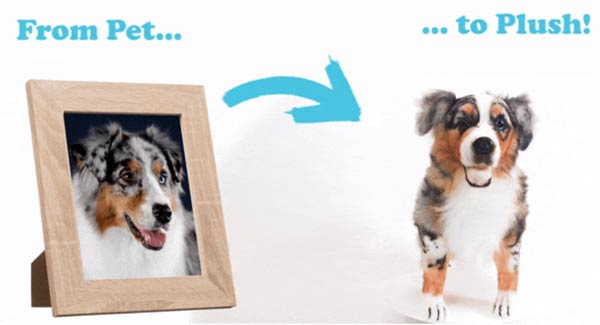 It's This Simple:
1. Select a favorite photo of your dog or cat.
2. Upload photo from phone or computer.
3. Receive custom stuffed animal of your beloved pet.
Visit petsies.com for more information, examples and any available Petsies coupon codes.
Petsies also makes custom photo pillows, socks, and more fun gifts!
NOTE: Prices and discount may vary depending on items purchased. Get complete details about custom stuffed animals and other unique gifts from Petsies, and find more Petsies coupons and examples.
View all custom plush Tripawds.