2021 Tripawds Calendars feature inspirational three-legged dogs and cats of the Tripawds Community. Members submitted more than 120 photos of beautiful Tripawds loving life on three legs. This year there are five new Tripawds Inspawration Calendar designs to choose from.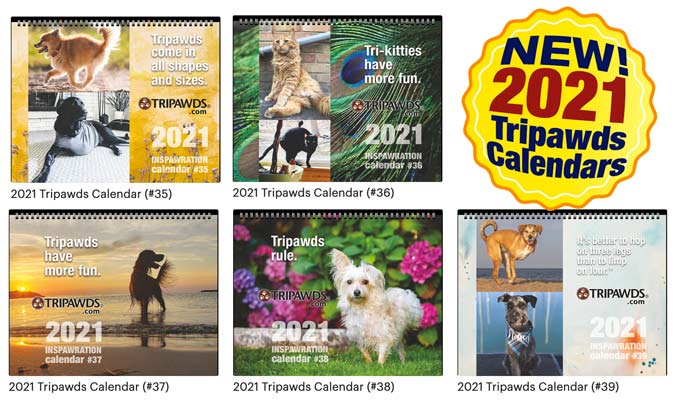 Three paws up to everyone who submitted their Tripawds Calendar photos on time. Please check your email for a special gift. Read on to see which dogs are in each calendar. One complete calendar features only tri-kitties!
2021 Tripawds Calendars Make Great Gifts for Vets!
Tripawds wall calendars are the perfect gift for your veterinarian or rehab clinic, and anyone with a three-legged dog or cat! Read on to see who is in each calendar, or browse and buy all calendars here:
All purchases help keep your community online!
Tripawds Calendar #35
Tripawds come in all shapes and sizes
Three-legged dogs featured in this calendar: Abbie, Barkley, Barry, Birdie, Blue, Bria, Chance, Chester, Clayton, Coby, Cooper, CurlyJoe, Delilah, Duke, Fleury, Fritz, Harley, Ilean, JJ, Jessie, Jillibean, Kahlua, Lainey, Luna, Moxie, Nubby, Olive, Ozzie, Pablo, Piper, Pistol, Rex, Rita, Rue, San, Saki, Skipper, Snoopy, Sophie, Tank, Tara, Teddie, Trip, TJ
Tripawds Calendar #36
Tri-kitties have more fun.
Three-legged cats featured in this calendar: Footless, Fuzz, Huckleberry, Jet, Kitty, Patty, Purrkins, Rico, Rusty the Bunnyman, Scully, Sparta, Tom Jones, Marmalade, Montana, Tuxedo.
Tripawds Wall Calendar #37
Tripawds have more fun.
Three-legged dogs featured in this calendar: Travis Ray, Elly, Logan, Stella, Austin Ray, Maddie, Rowan, Tyson, Theo, Codie Rae, Boone, Arwen
Tripawds Calendar #38
Tripawds rule.
Three-legged dogs featured in this calendar: Applesauce, Atlas, Brownie, Bruno, Buddy, Clutch, Cooper, Daniel, Emmet, Fallon, Frankie, Griffin, Heidi, Islington, Kaiserin, Lincoln, Lolli, Morgana, Nitro, Nora, Otis, Peetie, Sassy, Timber, Trip, Tyson, Thurston
Tripawds Calendar #39
It's better to hop on three legs than to limb on four.

Three-legged dogs featured in this calendar: Cleo, Chesnut, Kiana, Komo And Rose (Together), Milo, Mingo, Murphy, Neon, Nelson, Roane, Sevah, Tobin, Trace, Trippy, Tyson, Wrigley.
Please stay tuned to the Tripawds News blog for details about the challenges we face producing these calendars, and why your support matters more than ever this year. Please consider gifting calendars to your vet clinic, rehab center, and friends or family to show them Tripawds Rule!
UPDATE: Did you miss the calendar deadline?
It's not too late to add your photos to your favorite Tripawds calendar, or create your own Tripawd Hero Calendar.