You can now be an official Tripawds Community Ambassador. Get everything you need for you and your three-legged dog or cat to show the world that Tripawds Rule. Name your price for a Tripawds Ambassador Kit, or chip in a bit extra to help keep your community online!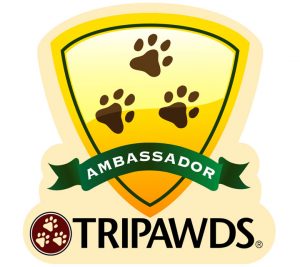 Tripawds Community Ambassadors Wanted
We are often asked on social media, "how can I become a Tripawds Community Ambassador?" So we've put together a package of goodies and information to help anyone spread the word about our many free resources and assistance programs.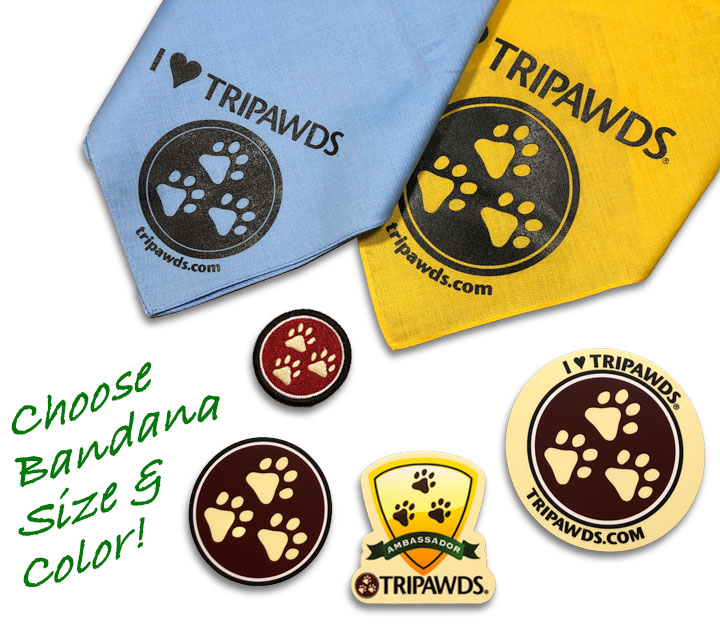 Show Your Tripawd Pride!  As an official Tripawds Community Ambassador, you can help show the world it's better to hop on three legs than to limp on four. You'll get everything you need to share this community's free resources and amputee pet programs that help three legged cats, dogs and their people.
Get a colorful bandana for your dog or cat and the limited edition Tripawds ambassador sticker. We'll throw in the 3-paw Tripawds Merit badge, button, and more stickers. We'll also send free brochures for your vet clinic, and cards to help anyone with pet amputation recovery and care tips.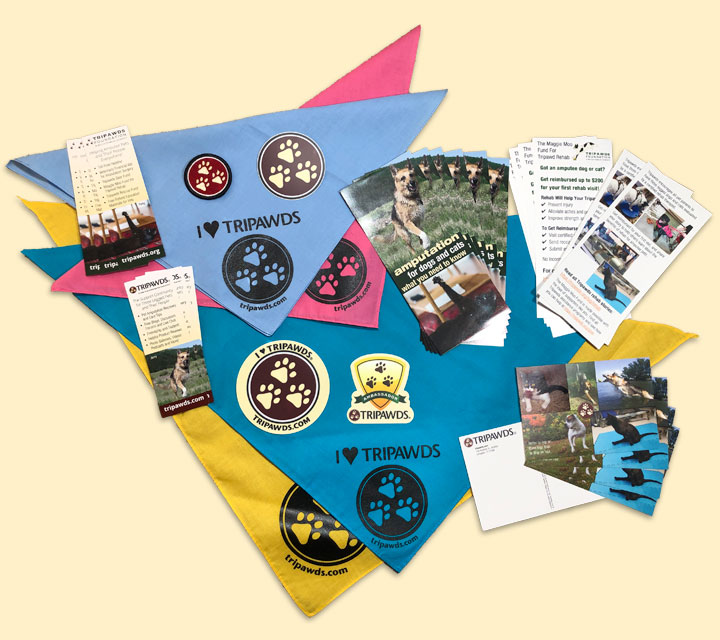 Your Tripawds Ambassador Kit Includes:
Official Tripawds Ambassador Sticker*
I Tripawds Sticker
3-Paw Logo Sticker*
Rehab Fund Program Flyers (6)
Tripawds Postcards (6)
Tripawds Bookmarks (6)
*Only available in the Tripawds Ambassador Kit!
AND: Get Free Downloads!
Tripawds Info Cards
Tripawds Talking Points
Become an official Tripawds Community Ambassador and have the honor of representing three-legged pets everywhere with official gear and information. Ambassador materials describe assistance programs and free resources. Our talking points explain how to introduce your vet and other pet parents to the many ways the Tripawds Foundation charity helps amputee pets and their people. Wherever you and your Tripawd hero go, you will be ready to share your community's mission with the world.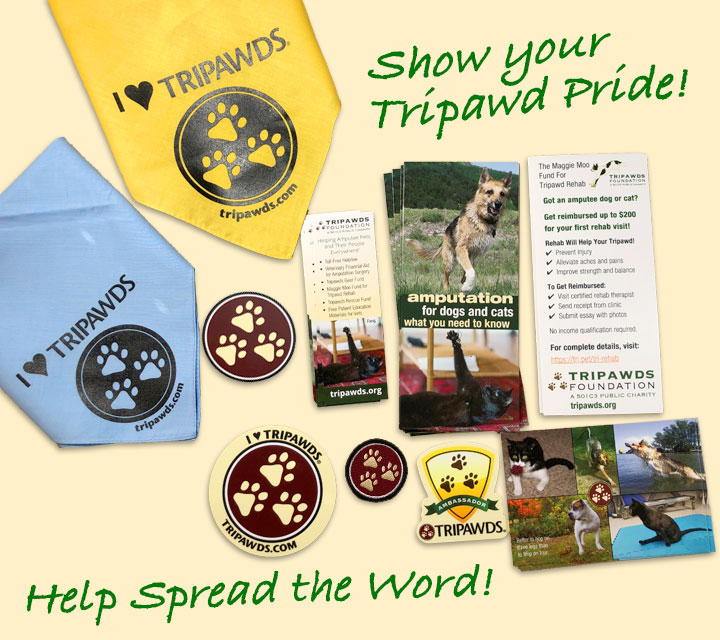 Get your kit here. Then send us a Tripawd Tuesday story about your ambassador adventures along with some photos. Next, enjoy your spotlight in the Tripawds News Blog! Be sure to share your #Tripawds feature and tag @Tripawds.
Your purchase includes coupons for saving on our Be More Dog e-book or paperback. 🙂