Snow may be starting to fall on some Tripawds members, but if you ask their pups they're sure to say anytime is time for a barbecue! 🙂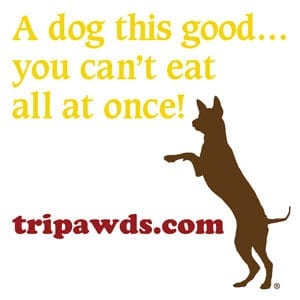 And what better way to barbecue – or bake bread for that matter – than in style!?!? Tripawds style that is … this funny yet fully functional apron was inspired by the fun discussion about Tika's great camping adventure, and the comebacks people come up with for silly comments abut their beloved three-legged friends.
It features the punchline of a joke we were told by a Native American who saw Jerry at Lake Bemidji in Wisconsin, and is solely intended for those who agree laughter is the best therapy.
"Your dog reminds me of a funny story,"  the old man told us. "This old Ojibwe came across a Choctaw with a three legged dog and asked, 'What happened to your dog?' The Choctaw says, 'A dog this good you can't eat all at once!'
The Tripawds Apron is ideal for any chef – in the kitchen or at the BBQ – and can be found in Jerry's Café Press Tripawds store, along with many other less crude t-shirts and gift items, including the 2010 Tripawds calendar.