Team Tripawds was walking in style last weekend at the Morris Animal Foundation's K9 Cancer Walk in Elk Grove California.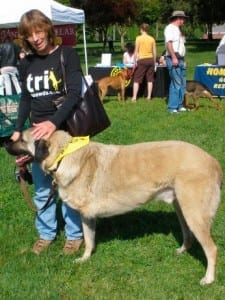 Cemil's Mom, Mary, looked especially stylish sporting our snazzy Tri Nation Women's Long Sleeve Dark T-Shirt, available in black or brown for just $29.99.
This is our Tri Nation Flying Dog Design, which stars canine cancer hero Caira Sue, making one of her amazing leaps for a ball.
Thanks Mary and everypawdy else who's purchased snazzy merchandise like this from our Tripawds Gift Store!
Be sure to
check out our hundreds of other items available, from tri-Pug magnets to big dog wall clocks. All proceeds from the Tripawds Gift Store go right back into defraying the maintenance costs for the Tripawds.com community.
Many thanks for your continued support!
(Photo is from the Tripawds Facebook Fan Page, courtesy of Emily Bailey, Spirit Cherry's Mom)