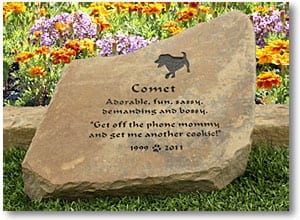 Some of the most cherished memories we share with our Tripawds happen in  the great outdoors. Now you can honor those good times with a beautiful  outdoor Garden Stone Pet Memorial, made by Tripawds member Riley and his  artisan pawrents, Kurt and KaCee.
These elegant stone memorials can be customized with your Tripawd's name  and a few lines of type.  Choose from pedestals, benches or headstones made with flagstone or rustic rock that endures for generations. Each  item can be tailored to remember a front or rear leg tripawd. Just email Kurt at this address to place your order.
Garden Stone Memorials Help Support Tripawds Community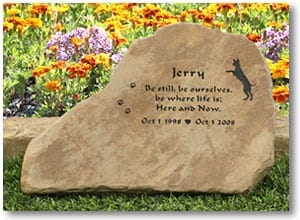 For every memorial sold, Kurt and KaCee are generously passing along fifteen percent  of the purchase price from each Garden Stone Pet Memorial to Tripawds.com to help support the ongoing costs of  maintaining this community.
Email Garden Stone Pet Memorials to place your order today, enjoy a lasting tribute to your three legged friend, and help show your support for the Tripawds community!


See Remembrance Page for More Memorial Gifts
We have added these beautiful pet memorial markers the Tripawds Remembrance page, where you will find a wide selection of elegant pet urns and memorial boxes along with paw print kits, pet tribute lockets and other gifts to honor lost loved ones.