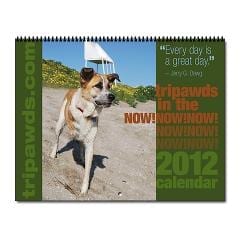 Many thanks to everyone who sent in photos for the 2012 Tripawds Calendars!
With so many submissions we have created four calendars and two calendar prints this year. Every picture we received has been included in this year's calendars. Check out the selection now to see the many inspirational photos of your Tripawds pals!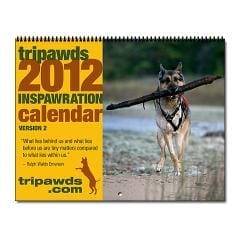 While most photos were suitable for full page printing, the lower resolution images we received have still been included. These images just appear smaller and share the month with other three legged friends of the Tripawds community.
Three different  2012 Inspawration Calendars are available featuring inspirational quotes from Tripawds members.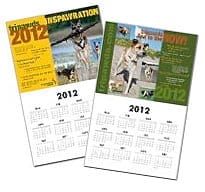 Another calendar features more Tripawd Heroes loving life as all three legged dogs do – in the Now! The two calendar prints include various dogs and inspirational quotes.
All the 2012 Tripawds Calendars make ideal gifts veterinarian offices, cancer centers, rehab vets, or anyone with a three legged dog!
Looking for your Dog? Here's a list of who is in which Calendar…
Tripawds Inspawration #1 (Yellow cover featuring Hanz): Annie, Bo, Charlie, Charley, Chili Dawg, Dakota, Frankie, Gus, Hanz, Ingrid, Sappo, Shelby, Simba, Teegan, Tripp
Tripawds Inspawration #2 (Green cover featuring Lyee): Abby, Butchey Hudson, Cayman, Cole, Ginger, Lucy, Lylee, Mackenzie, Maggie, Mitzie, Molly, Ranger, Riley, Sadie, Sam, Skyler, Tate, Ted, Trouble, Tripp, Wyatt (DeuceAce)
Tripawds Inspawration #3 (Blue cover featuring Kess): Brodie, Catie, Comet, Darcy, Dizzy, Fortis, Gayle, Gerry, Kess, Lizzie, Pippin, Rocky, Rio, Valentina, Zane, Zoe
Tripawds In The Now (Green cover featuring Abby): Abby, Athena, Codie Rae, Indy, Jerry, Lincoln, Max, Sammy, Shelby, Tri-Pug Maggie, Wyatt, Nova
Shop early and save! Use Cafe Press Coupon Code FOCT1140 and take 10% off all Tripawds Gift Shop orders over $40* now until midnight,  10/28.
*10% off orders of $40 or more in shops only. Coupon code: FOCT1140. Sale starts October 27, 2011 and ends at Midnight, October 28, 2011. Save 10% off for CafePress.com shop orders of $40 or more, excluding shipping charges, gift wrap charges and applicable sales tax. All orders must be added to cart from cafepress.com shops only. Excludes CafePress marketplace purchases (e.g. all products added to cart from URLs beginning with the following (i) shop.cafepress.com, (ii) t-shirts.cafepress.com and/or (iii) cafepress.com/sk/), Gift Certificates, Flip products, SIGG bottles and CafePress Make and bulk orders. Coupon code FOCT1140 must be entered at check out. Promotion starts on October 27, 2011 at 12:00 a.m. (PST) and ends on October 28, 2011 at 11:59 p.m. (PST). Offer valid online at CafePress.com only, cannot be combined with any other coupons or promotions and may change, be modified or cancelled at anytime without notice. This promotion cannot be applied to past orders.