Here are some great gift ideas for hanging on your tree or in your window!
Tripawds Ceramic Ornaments
Visit the Hoppy Holidays section of the Tripawds Gift Shop for lots of ceramic ornaments featuring favorite three legged dog and cat designs. You will also find greeting cards and note cards with holiday designs and felt stockings for your three legged friend.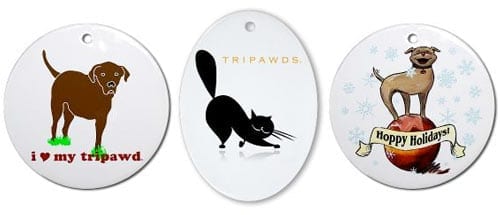 Create Your Own Tripawds Ornaments
Felling crafty? Looking for something fun to do with the kids?
Download holiday ornament templates from previous years in the Tripawds Downloads blog and make your own fun three-legged decorations!