Thanks to all Tripawds members who submitted pawesome pics of their inspirational three legged dogs and cats, we are happy to announce four new Tripawds Inspawrational Calendars!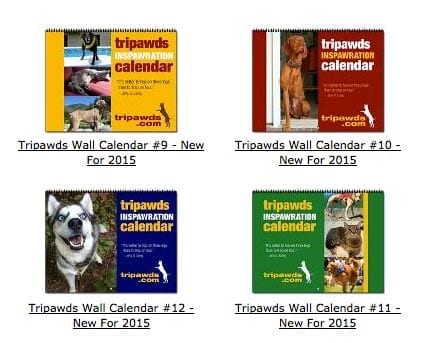 Browse all calendars in the Tripawds Gift Shop or see which three legged heroes and angels are in each new calendar below!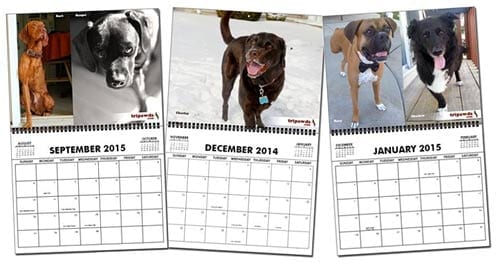 Tripawds members featured in this year's calendar with the gold cover include: Bo, Leland, Lia, Maggie, Marilyn, Misty, Murphy, Libby, Sassy, Slider, Sophie, Steve & Zeus. Each month of Calendar #9 includes inspirational quotes accompanying the photos.
Featured in Calendar #10, with the red cover, are: Bart, Barret, Bruno, Jake, Coven, Jackson, Daryl, Frankie, Domino, Lucas, Happy Hannah, Jill, Hannah, Max, Kota, Sato Charlie, Misha, Neka, Murphy, Remo, Roxie, Shadow, Tahoe & Toby.
Calendar #11, with the green cover, includes: Rosco, Franklin, Panchito, Patty, Leo, Polly, Shelby, Snoop, Ty, Tanner, Tommy, Tripod, Triton & Willow.
Members featured in Calendar #12, with the blue cover: Adelaide, Biscuit, Cooper, Jasmine, Cali, Charley, Cooper, Daisy, Fang, Faygo, Kafziel, Leilani, Lily & Ziggy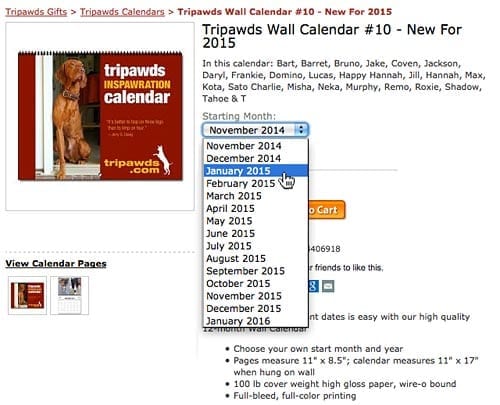 Start your Calendars on any month!
Just like all Tripawds calendar designs, you can select the month with which you wish to start the year. Be sure to select your desired starting month before ordering your calendars! This allows the calendars to be purchased any time of year and be functional for a full 12 months. It also lets us keep available all previous calendars featuring many inspirational members of the Tripawds community.
Collect them all! Send them to friends and family. Give them to your vet's office for an all-year monthly reminder that Tripawds Rule!
While your at it, browse the Tripawds Gift Shop for pawesome t-shirts, apparel, mugs, caps, stickers and more!
Personalize Your Own Calendars
Didn't make it into this year's calendars? No worries, you can upload your photo to personalize your own Tripawds Pin-up Calendar! Or, make your own custom weekly planner using Blurb's free BookSmart software.