Long ago, we launched the first Tripawds Café Press store, where you could show your true Tripawd pride with a handful of t-shirts and gifts featuring our founder and CFO (Chief Fun Officer) Jerry.  Today, we're happy to bring you the All New Tripawds Gift Shop with three times the fun, and many new items featuring lots of new inspawrational designs!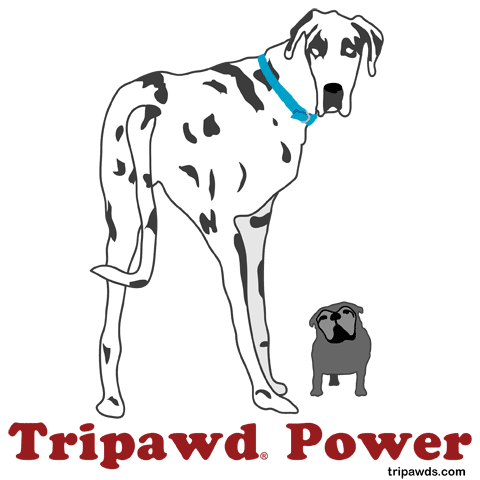 The Tripawds Gift Shop now features all new designs inspired by front and rear leg amputee dogs and heroic canine cancer survivors like our Tripawd pals Codie Rae, Caira Sue, Moose and Maggie. We should say Maggies, rather.
Tri Nation t-shirts and bags invoke the Tripawd Spirit, and many more new items help you show the world how Tripawds Have More Fun.
We've added a selection of Humorus Shirts and Cards because tripawds know laughter is the best therapy. You will find original products inspired by Jerry himself, and a convenient category of Three Legged Dog Gift Cards featuring all the new designs – perfect for sharing the love and trading with Tripawds Friends.

Easy to navigate, the new and improved Tripawds Gift Shop lets you browse by favorite designs and choose from hundreds choices for shirts, buttons, stickers, note cards, mugs, mousepads, and much more.
There is so much new Tripawds merchandise, you are sure to find something for every three legged dog lover on your list. Come explore all the new shtuff today!
We'll be discussing all these new items and designs in much more detail here with upcoming posts. For now, here's a small sampling …
Remember, all purchases help support continuing efforts to maintain the Tripawds Blogs community and discussion forums.
And don't forget, we are always looking for new designs that show the world it's better to hop on three legs than to limp on four. So be sure to submit your own inspawrational ideas and product recommendations too.
We'd love to hear what you think, so please leave a comment with any feedback about your favorite new products or designs.