After Ajax lost his leg to chondrosarcoma, Tripawds member kazy55 suggested we create a rear leg black Labrador Retriever tripawd t-shirt. Well, this lit a long smoldering fire under our butts to launch some new designs for the Tripawds Gift Shop.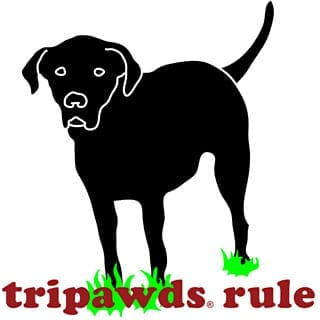 So… to honor Ajax, Jerry's girlfriend Lalla, and all the other rear leg amputee Black Labs out there we are proud to announce these two new Rear Leg Tripawds designs now available on t-shirts, hoodies, bags, mugs, mousepads and more!
The new Tripawds Rule design shows that the grass is always greener for dogs loving life on three legs! It also incorporates a little trick Mutts creator Patrick McDonnell taught us when we met him at a book signing with Wyatt – a little bit a grass can keep you from having to draw lots of dog feet!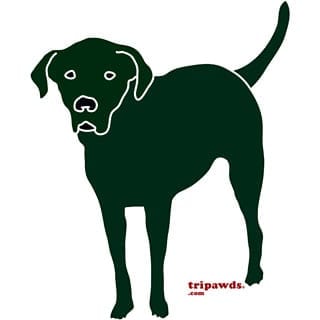 The second new design is a bit more refined. Stylish and simple, this three legged Black Lab silhouette shows that three legged dogs stand tall and proud.
Besides, it looks great on the wide selection of colored t-shirts available and organic cotton T's from E-conscious.
Both designs are available on a wide selections of Tripawds apparel and gift items. Below is just a small sampling …
With these designs, we've also introduced some of the first two-sided Tripawds t-shirts!
More new front leg Tripawds designs are coming up next, so stay tuned! And remember your purchases support this community and help us prove to the world that it's better to hop on three legs than to limp on four!