Since we just launched two new designs for rear leg Black Lab tripod dogs, it's only fair we also honor those Labs missing a front limb. So, check out these new Front Leg Tripawds T-shirt designs now available on T-shirts, sweatshirts, hoodies, bags, mugs, mousepads and more!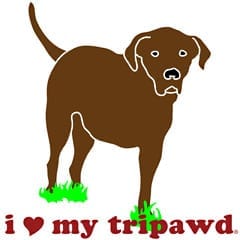 Chocolate is for lovers right? That's why our new I Love my Tripawd design features a brown Chocolate Lab loving  life in the green grass. After all the grass is always greener when loving life on three legs!
Show your love for all front leg amputee dogs with short sleeve shirts, jersey shirts and sweatshirts, and a wide variety of gift items for the home and office.
Don't miss the new two-sided I Love my Tripawd T-shirts too! Front pocket area feature the Tripawds three-legged Shepherd logo inspired by Jerry.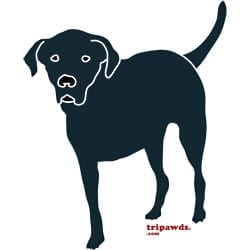 While we were at it, we included another new stylish Three Legged Black Lab Silhouette design — this one featuring a front leg Tripawd.
These new fashionable dark dog profiles look great on various colored t-shirts, and feel even better on our selection of 100% organic cotton Ts.
Actual color of this Labrador Retriever silhouette is a deep dark blue to contrast with the black nose and eyes.
Both designs are available on over a hundred different apparel items and gifts. Here is just a small sampling…
We've been working hard to update the Tripawds Gift Shop with lots of new designs, so look around and you might just get a sneak peak of what's to come. Be the first on your block to get new items and send us a photo — we'll publish it here!