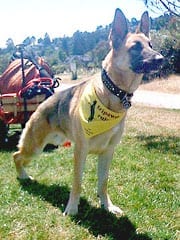 Did you happen to notice that bandanna Travis is wearing the in the photo that inspired our recent rear leg German Shepherd tripawd t-shirt designs? Well, in case you missed it, those Tripawds Rule bandannas are now available here.
And did you notice how he is missing his rear leg? That's what Photoshop is for! 😉
Based on the same photo we are hoppy to announce these two new front leg Tripawds designs featuring a Three Legged GSD standing proud – now available on t-shirts, sweatshirts, cards, mugs, and more gifts.
Three Legged German Shepherd Silhouette
Simple yet stylish, this three-legged German Shepherd profile design is especially attractive on a wide selection of dark t-shirts, and extra comfortable on 100% cotton organic Ts. And, with a little more digital magic, it is also available for those White Shepherd lovers out there, in honor of well… Magic!
Three legged GSD Tripawds Rule
Tripawds know, the grass is always greener. And those who love them know, Tripawds Rule! help spread the word with this selection of light and dark -shirts, sweatshirts and hoodies, mugs and more.
NEW! Two-sided t-shirts and long sleeve shirts are also available featuring the GSD Silhouette on the front pocket area and the Tripawds Rule design on back!
Spend a little time browsing the Tripawds Gift Shop, and you might notice a few other new designs we'll be describing in more detail soon. Remember, all purchases help support our continuing efforts to maintain the Tripawds Blogs community and discussion forums. And don't forget, you can name your price for those Tripawds bandannas!