Shepherds, and Retrievers, and Mutts, oh My! Front leggers, and rear, they are all represented in the selection of new Tripawds bumper stickers.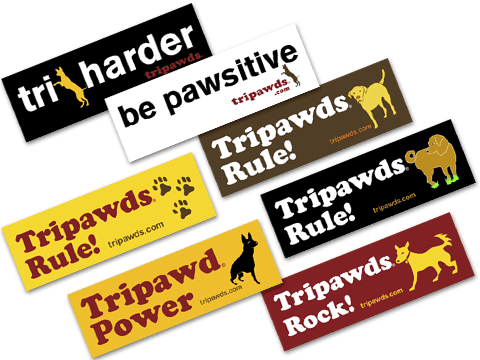 Maggie commented back on this post announcing the new three legged German Shepherd designs, asking if we could design some rear amp. Tripawd Power stickers. Well, we've finally obliged – in a big way!
Choose from 42 different colorful 10×3 vinyl stickers to show your Tripawd pride in traffic.
We've even combined existing designs to create this huge variety of three legged dog bumper stickers.
Checking out at the Tripawds Gift Shop? Add a bumper sticker to your cart and help support continuing efforts to keep the Tripawds Blogs community and discussion forums free! One dollar from each sticker sold goes toward website maintenance costs.
Feeling friendly? Save on a 10-pack of Tripawd On Board stickers and send them to your Tripawds Friends!