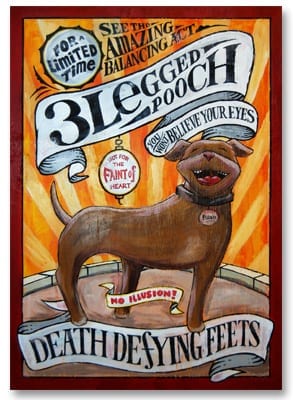 Ladies and gentlemen! Your attention please, on this Tripawds Gifts blog post featuring Floyd the Amazing Three Legged Pooch and his Death Defying Feets!
Shortly after Tripawds member deathdefyingfeets joined this community we received a message from Bernie Freytag, creative director at Romanelli and creator of Floyd's old timey Three Legged Pooch circus poster design.
Bernie painted the original with acrylic and water based paint pens on a 3′ x 4′ piece of wood and gave us permission to use the image on some fine new t-shirts, cards posters and more for the Tripawds Gift Shop. Then he went the extra mile, but first some details on Floyd.
He was diagnosed on July 12th of this year. He had his surgery for leg removal on July 21st and was standing on 3 legs that night after waking from the Surgery. He started his first chemo treatments on August 16th and his last one will be November 9th – each of these treatments he handles extremely well and without any side effects. One amazing pooch indeed.
For more about Floyd – with an enlightening outlook on the whole prognosis thing – read Bernie's post about being Dog People. Here's a taste…
"Yes, Floyd has three legs. He didn't always have three legs. He had four up until a few months ago. We took one away because it didn't work well anymore. Most important, is that it caused him pain and that's something we just couldn't stand for (pun intended). He's now a kick-ass, three-legged dog…with no pain."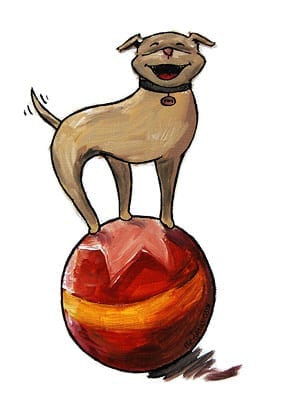 Now, about that extra mile…
We were so enchanted by Floyd's circus poster illustration – and Bernie's generous offer – we did what any self respecting gift recipient would do. We asked for more.
With very little begging and nagging required, Bernie created the awesome Tripawds Have A Ball design for us to include on more t-shirts, sweatshirts, gifts and greeting cards!
You will now find two new sections to the Tri Not To Laugh aisle of the Tripawds gift Shop:
Stay tuned for more examples of the many different t-shirts and gift items featuring the amazing Floyd. Here's just a small sampling…
Check out all of the fun new items featuring Floyd now, and be sure not to miss the Hoppy Holidays greeting cards!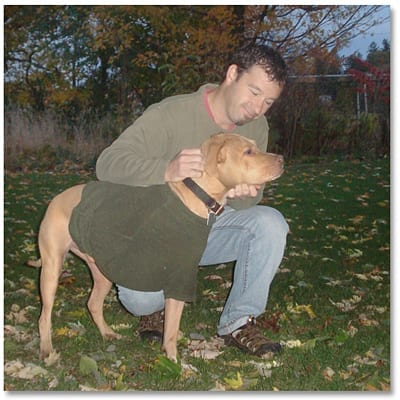 Bernie Freytag and Floyd