Send Hoppy Holidays greeting cards and note-cards to all the three legged dog lovers on your list!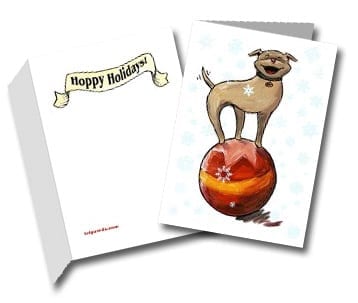 This special edition Tripawds Have a Ball design by Bernie Freytag features Floyd, his amazing three legged pooch.
Convenient packs of ten or twenty cards come in two different sizes. Available sans snowflakes with the banner reading Tripawds have A Ball, these cards make an excellent sentiment or thank note any time of year.
Since 'tis the season though, why not consider the first Hoppy Holidays ornament from Tripawds and medraw.com?
Or, select form a number of great gift items including mugs, caps, and the new Tripawds have A Ball Christmas stocking
Be sure to get your suggestions in for the 2010 Tripawds Holiday Gift Guide by Cyber Monday!
Looking for that perfect, affordable gift for your vet's office or oncologist? Consider the selection of Floyd's Amazing Three Legged Pooch posters, prints and cards! Oh, and some pretty awesome apparel too. And don't forget about the 2011 Tripawds Inspawaration Wall Calendar and Calendar Print.