Attention Members of the Tripawds Community: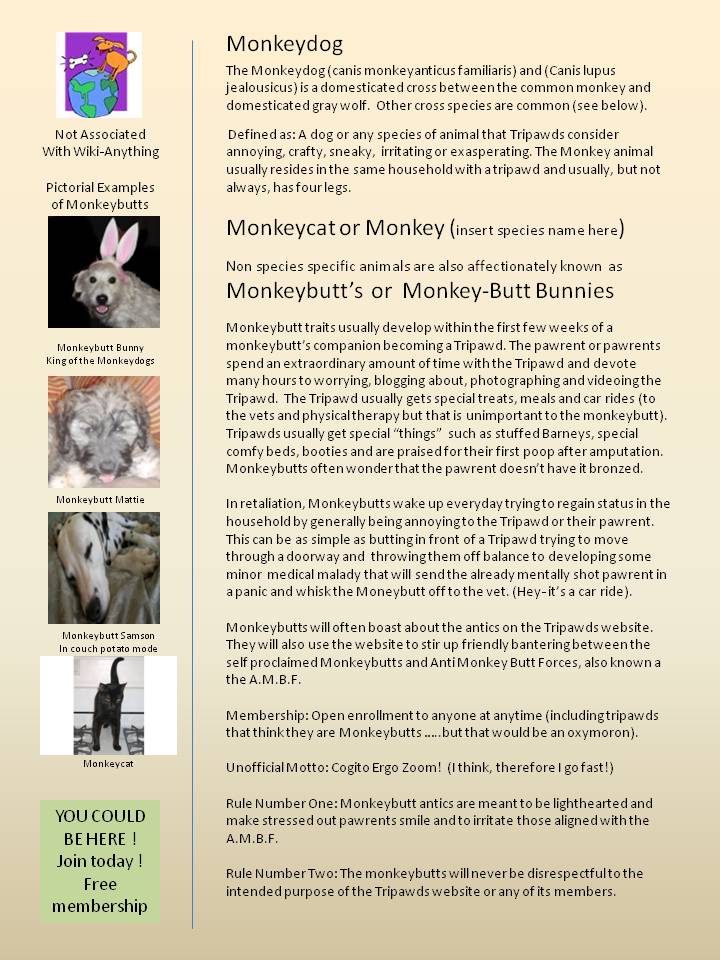 Whereas, the secret society of Monkeydogs have been recognized as a legitimate cross species, and
Whereas, the Monketbutt Federation has been proven to align forces in defiance of the Tripawd way,
The time for solidarity amongst all three legged dogs and their packs is imminent.
Therefore, let it be known that members, fans and followers of the Tripawds Blogs community and three legged dog discussion forums are encouraged to show their colors and stand with Fearless Leader Cooper in support of the fun antics instigated by Monketbutt Bunny which help liven otherwise difficult situations and prove that it's better to hop on three legs than limp on four.SM
Huh?
In other words, official Anti-MonkeyButt Force uniforms for all seasons and A.M.B.F. sanctioned casual wear are now available in the Tripawds Gift Shop. Check out the three legged humor section for two new designs available on many t-shirts, sweatshirts, caps, mugs and more!
Official A.M.B.F Gear
Anti MonkeyButt Force Authorized Uniforms and Tactical Equipment
Tripawds show your solidarity against the evil forces of the mischievous Monkeybutts! Wear the officially sanctioned uniform of the Anti-MonkeyButt Force.
Required for all Tripawds® team strike force operations, daylight and stealth attack gear options include bright color coded t-shirts and dark hooded sweatshirts. A.M.B.F. equipment recommendations include gym bag, water bottles, caps, clocks and much more.
No Monkeydogs!
A.M.B.F. Approved Casual Wear and Gifts
Tripawds Rule. Monkeydogs Drool! Stand up loud and proud against the evil Monkeybutt forces with the official No MonkeyButts emblem on t-shirts, sweatshirts, caps, mugs, bags and more gifts.
Show your three-legged solidarity with Tripawds gifts for the home and office featuring the No Monkeydogs emblem.