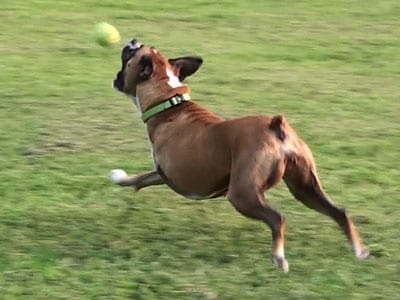 Tripawds member lesliec submitted a picture of Roxy a while back, and we've finally gotten around to creating two new Tripawds designs now available on t-shirts, sweatshirts, mugs, mousepads, cards and more fun items in the Tripawds Gift Shop.
The image of three legged Boxer dog Roxy running and leaping for a ball proves that Tripawds really do have more fun, and since it reminded us of Caira Sue it just seemed appropriate for a new Tri Nation shirt too.
Roxy embodies the Spirit of the Tripawd Nation. Help spread the word that it's better to hop on three legs than limp on four with her inspirational image on t-shirts, hoodies, bags, mugs and more gifts for the home and office.
Don't tell Roxy she's missing a leg, apparently she doesn't know! Tell the world instead, that Tripawds have more fun with Roxy's fun design on plenty of different items to choose from.
Be sure to scroll down on the Gift Shop pages to see all t-shirt colors and two sided options!
Submit your Design ideas
If you have an inspirational three legged dog t-shirt design idea, send us a photo or finished design for consideration. And don't forget, you can now browse all Tripawds designs at a glance!