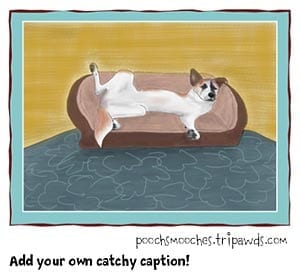 We received so many fun ideas for a caption to Abby's awesome artwork on the Tripawds Gifts Facebook Page that we've created another customizable design so you can add your own. Caption that is, and blog address!
When Abby's mom sent us this fun artwork, we were excited to put it on Tripawds t-shirts and gifts but couldn't decide on the perfect caption. Now you can add your own. Just select your product, enter the caption you want and change the blog address to your own. Then be sure to share what you did in the forums!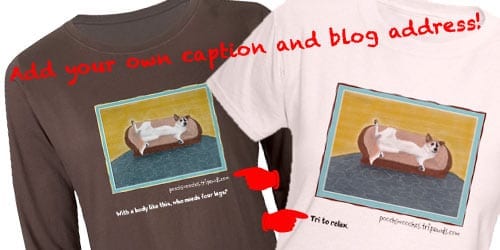 No Tripawds Blog? No problem! Edit that to say tripawds.com or leave it as is to give Abby the credit she deserves. Below are a few suggested captions from the Tripawds Gifts Facebook Page. Got a cute idea? Share it with a comment below!
Tri to Relax
Trampy Tripawds Have More Fun
Who can resist a tripawd?
I'm too sexy for my leg.
Tripawds know how to chill.
Tripawds give you more room to rub
With a body like this, who needs four legs?
Bringing sexy back to Tripawds.com
Who can resist a tripawd?
Love me, rub my dog.
Don't miss the new Tripawds Athletic Dept. design you can personalize with your dog's name to show your Tripawds team spirit!
See all customizable designs here, or browse all Tripawds t-shirt designs.