When it comes to coping with amputation recovery, one popular bit of wisdom members offer to new pawrents is to 1) get plenty of rest, and 2)  have plenty of wine ready!
Why not make that wine extra special, by toasting to your Tripawd's future with Three Legged Red by Dunham Cellars?
Dunham Cellars is a small family winery located in Walla Walla, Washington.
They welcome dogs and pawrents to visit their tasting room, located in a vintage airplane hangar, and they've even named two of their wines in honor of Dunham family dogs, Port and Maysy.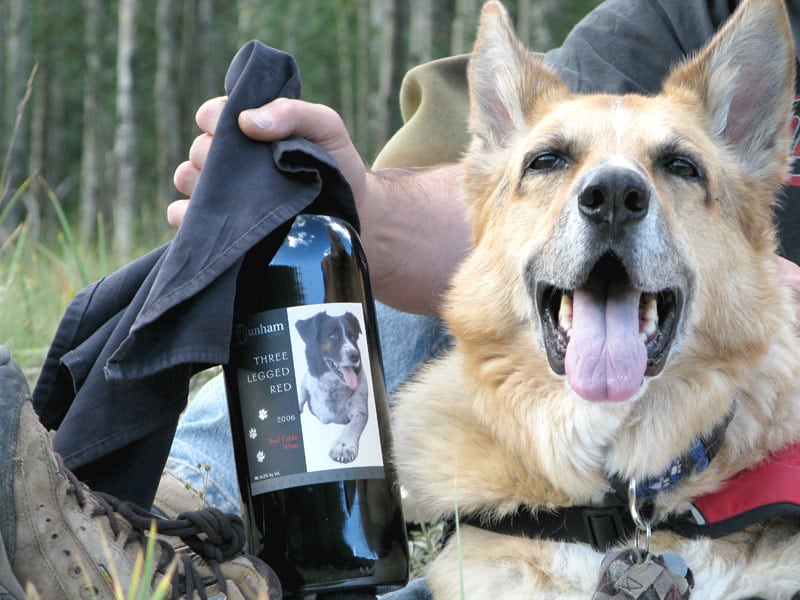 Spirit Jerry always had good things to say about Three Legged Red, so last time the Tripawds crew was in Washington they paid a visit to Dunham.
Tripawds founder Jim Nelson asked Dunham's Barbara Mosher, to tell us the story behind Three Legged Red:
Dunham wines include Cabernet Sauvignon, Syrah, Trutina (a Bordeaux style blend), Three Legged Red (a red table wine), Four Legged White (a Riesling), and the "Shirley Mays" Chardonnay, which is dedicated to Eric's grandmother.
A portion of the proceeds from the sale of this wine are donated to the Susan G. Komen Breast Cancer Foundation to help fund the fight against breast cancer.
Are you prepared for your Tripawds amputation recovery?