We have added two new designs featuring lots of fun photos and inspawrational quotes submitted by Tripawds members to our growing selection of three legged dog calendars in the Tripawds Gift Shop.

This year's selection includes a couple firsts for the Tripawds community! We our happy to announce our first Tripawds UK calendar, and welcome our first Tripawd cat to our calendar pages. And we are especially glad that you can now select which month your calendar can start on, so all our calendar designs will be suitable for use for years to come. New members, be sure to check out previous calendars for some incredible Tripawd Heroes and more inspirational quotes.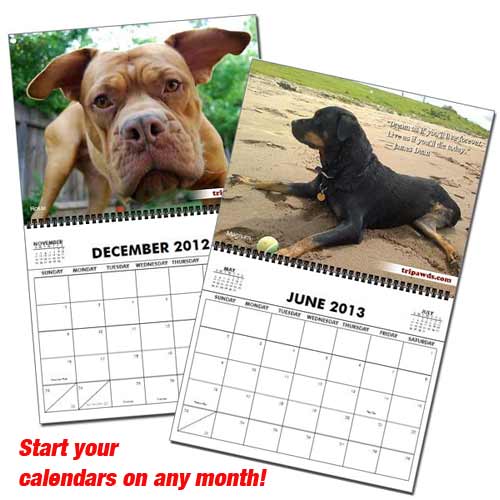 Many thanks to all who submitted photos for this year's calendar designs. If you sent a picture, we included it. The lists below indicate which dogs are in which calendar.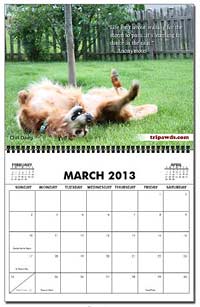 Tripawds Inspawration Calendar #4
Anthony Mater
Butchey Hudson
Chili Dawg
Hannah
Jackson
Jake
Kayla
Maggie
Magnum
Roc
Rocket
Rosie
Sasha
Sato Charlie
Wookie
Wyatt
Zeus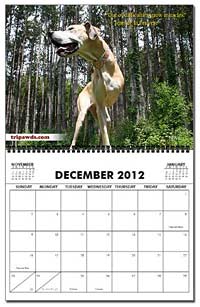 Tripawds Inspawration Calendar #5
Bocephus
Bruiser Bruno
Charley
Cheek
Daisy
Fang
Gaby
Kady
Lily
Nova
Oso
Porthos
Rosco
Shane
Truman
Ursa
NEW! Check out the 2013 Tripawds Now Book and see how easy it is to make your own custom weekly planner!
Tripawds calendars make great gifts!
Veterinary offices, cancer clinics and rehab centers all look better with Tripawds Calendars in the lobby. Get yours today to thank your vet and help show others how Tripawds Rule!