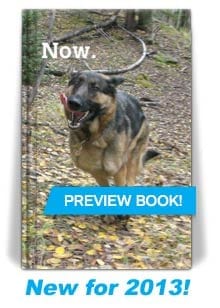 After receiving so many pawesome pictures for the 2013 Tripawds Calendar designs, we decided to make a custom weekly planner with Blurb.
We were so happy with how it turned out, we've added it to the Tripawds Blurb bookstore. And Blurb makes the process for making a custom planner featuring your favorite photos so easy, we wanted to share it with you here.
The 37 minute video below, describes in detail how to create any custom photo book using Blurb BookSmart. But honestly, you could probably just read on for a few basic tips, then go ahead and make your own custom planner in about the same amount of time!
How to Make Custom Weekly Planner Photo Book on Blurb
With Blurb BookSmart, creating your own custom planner — or any photo book — is as easy as selecting your photos and dragging them where you want them. This software is intuitive, powerful, and smart! It includes many templates you can use as is or you can customize your layout, and it will even warn you if your photos are too small. If you have graphic capabilities you can upload completed designs to Blurb or use their InDesign templates.
We chose to make our custom book the easy way. The first step was to download and launch the free BookSmart software.
BookSmart keeps track of all the books you create. After clicking Start a new book, we were able to select the size of book we wanted – in this case a pocket size weekly planner – and import photos to use.
You can import photos from your computer, iPhoto, Flickr, Photobucket and other sources. Or, you may choose to make a Facebook Photo book using Blurb and the favorite photos from your Facebook albums. Once you have imported your photos, the fun begins! But don't worry, you can add more photos to use any time.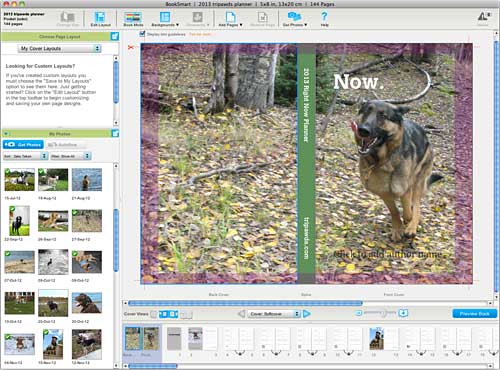 We started by designing our cover and created the wrap-around effect above by dragging the same photo to both the back and front, at the same size, and positioning them just right. You might choose to have different photos on the front and back covers.
The BookSmart weekly planner template includes a full page image area at the beginning of each month, next to a full calendar grid. Of course, you can easily edit this layout or add more pages. Each month is followed by two-page spreads displaying a week at a glance with ample room for planning appointments, birthdays, celebrations and other important events, as well as a notes section at the bottom of every page, with room for more images.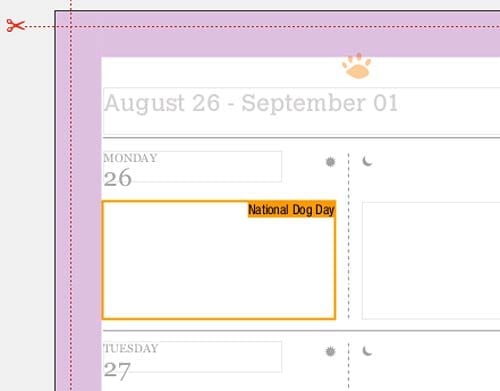 Text can be added to any day on the calendar for including holidays and any important dates to remember. The font, size, color, and position of this text is easily changed. Add ornaments or backgrounds to any single page, or all pages at once.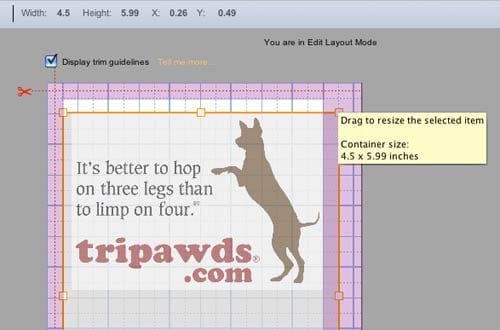 When you add new pages to your book, you can select from plenty of layouts for positioning photos and text. BookSmart also lets you customize the layout of nearly any page. Simply click the Edit Layout button to add image boxes or text areas. You can then just drag imported Photos to the box, or click in text areas to add copy.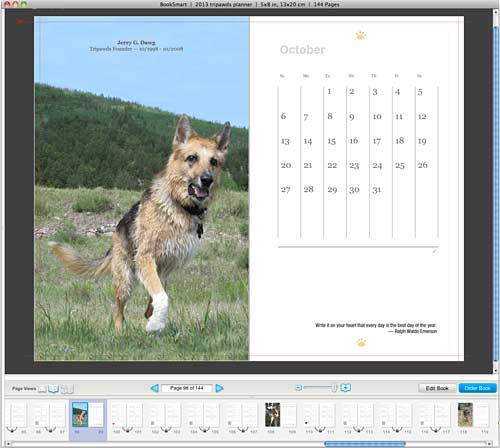 Once you are happy with your planner, click the Preview button and you can view every page and make sure everything is exactly as you want it when it is printed.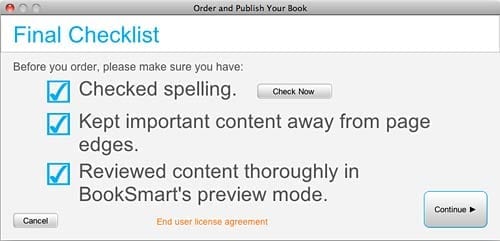 When you are ready to order your book, just click the blue button and BookSmart will remind you to check certain things before proceeding. There is a built-in dictionary that will spell check all text in the book. Trim and "safe area" guidelines will help you identify areas of images that may get trimmed off or hidden, and the software's intelligent engine will inform you of any photo that is too small or other printing issues.
That's it! Your book is done, and you can purchase as many copies as you want for friends and families. But that's not all…

When you create a free Blurb account, you can open your own bookstore online to sell copies of all the books you create. That way friends and family can purchase their own copies! See the Tripawds Blurb bookstore for example, or to get your copy of the 2013 Now Pocket Planner, filled with photos of dogs loving life on three legs and inspirational quotes reminding us to be present.