New 2017 Tripawds Calendars
Three paws up to everypawdy who submitted photos for this year's Tripawds Inspawration Calendars!
Four New Tripawds Calendar Designs for 2017
Thanks to all the photos we received, we have four new Tripawds calendar designs featuring inspawrational three legged dogs of the Tripawds Community. See which Tripawds are in each calendar below…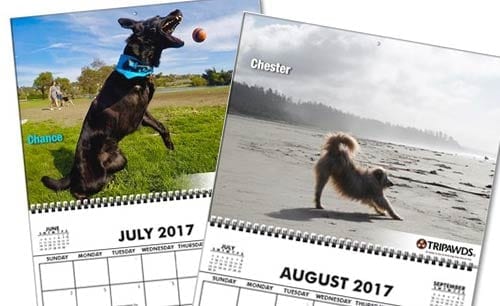 (Blue Calendar Cover) Inspirational Three Legged Dogs of the Tripawds Community: Ace, Maggie, Leo, Elvis, Bella Kylie, Mia, Bandit, Patchy, Izzy, Bella Mae, Sheena, Cooper, Bruno, Apollo, Skip, Rocky, Jethro, Tex, Joey, Tommy, Rocky, Meg, Bentley, Bud, Dozer
(Green Calendar Cover ) Inspirational Three Legged Dogs of the Tripawds Community: Mayday, Rosco P. Colpayne., Dallas, Barret, Biff, Penny, Ginger, Sully, Maggie, Cooper, Chester, Bella, Chance
(Purple Calendar Cover) Inspirational Three Legged Dogs of the Tripawds Community: Wyatt Ray, Otis, Lilly, Gracie, Hannah, Murphy, Wrigley, Henry, Austin Ray, Codie Rae, Travis Ray, Novak
(Red Calendar Cover) Inspirational Three Legged Dogs and Cats of the Tripawds Community: Alfredo, Meg, Bonnie,
Little Man, Purrkins, Romeo, Juliet, Happy Hannah, Frankie, Isa, Henry, Roo, Murphy, Nitro, Fang, Sassy, Shelby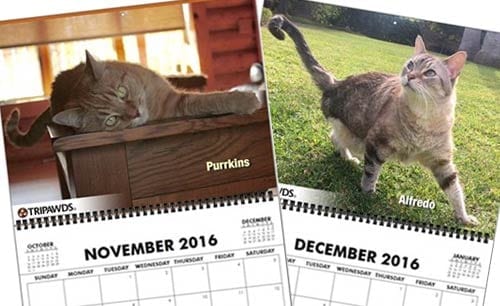 Select Your Calendar Starting Month
NOTE: Pick the month your calendar starts!
All Tripawds calendars are good for 12 months and can start on any month. When purchasing your calendars, be sure to select the month you want to be first in the calendar.
Tripawds Calendars Make Great Gifts!
Provide inspiration to others facing amputation for their dogs and cats by giving Tripawds Inspawration Calendars to your veterinarian, oncologist, or certified rehab tech. Together we can help spread the word that Tripawds Rule! All previous calendar designs are still available, with more than 100 three legged dogs and cats. Collect them all!
Create Your Own Custom Calendar!
If you didn't submit your photo this year, don't worry! Use the Custom Pin-up Calendar options at the bottom of the Tripawds Calendars page to upload your own photo. Or, use one of our recommended Custom Book Publishers to create your own complete custom wall calendar featuring you Three Legged Heroes and Angels.