Many thanks to everypawdy who submitted such awesome photos for the 2018 Tripawds Calendars!
As promised, you will now find three new calendar designs in the Tripawds Gift Shop. Read on to see which dogs and cats are in each calendar. All make great gifts for veterinary offices, pet cancer clinics and rehab centers.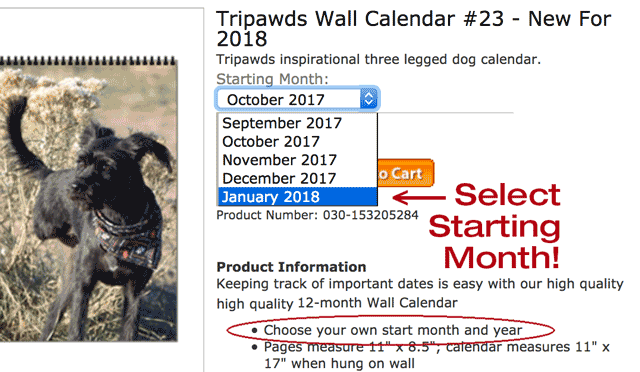 NOTE: All calendar designs are fully functional year-round, any year! Be sure to select your preferred month to start your calendar and all pages will reflect the correct year and dates. For example, choose January if you want your calendar to start with January. The starting month may default to the current month. All calendars include 12 months.
See a calendar from a previous year that you like? Order a 2018 version, it makes a great gift!
Three New Tripawds Inspawration Calendars
Tripawds Inspawration Calendar # 24
(Blue)
Featuring: Wrigley, Travis Ray, Skyla, Sheba, Rosco P. Coltrane, Loki, Lily*, Max, Murphy, Cassie, Elly, Codie Rae, Austin, Chance, Domino, Zato
* White Shepherd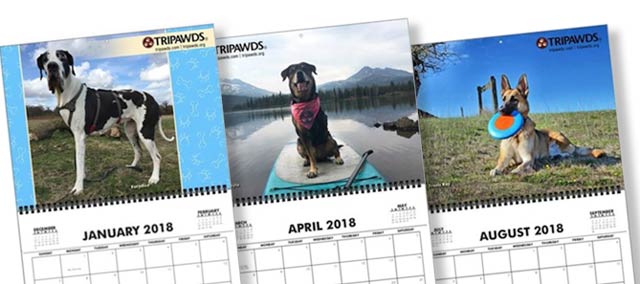 ---
Tripawds Inspawration Calendar # 23
(Orange)
Featuring: Super Stu, Sassy, Frankie, Manni, Otis, Happy Hannah, Nelson, Alden, Tommy, Frank, Hobbes, Maddie, Mikey, Tess, Fluffy, Nitro, Shelby, Adelaide, Brendol, Rocky, Pofi, Eurydice, Lily*, Bowie
*Yellow Lab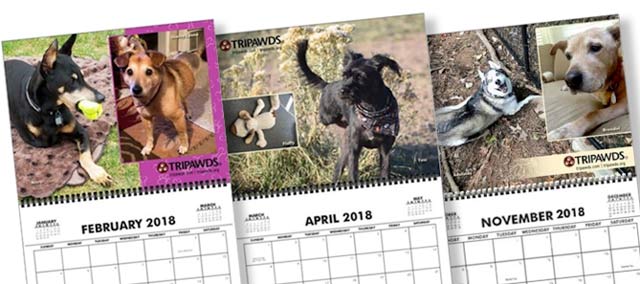 ---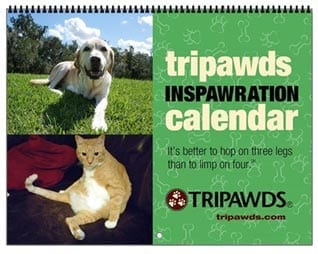 Tripawds Inspawration Calendar # 22
(Green)
Featuring: Rocky, Bella, Tai, Bud, Brutus, Gerry Boy, Purrkins*, Hannah, Chipper, Leo, Rookie, Maggy, Olive, Cooper, Montana*, ThreePaw*, Huckleberry*, Tuxedo*, Kala, Sessy, Jet*, Ted
*Tri-kitties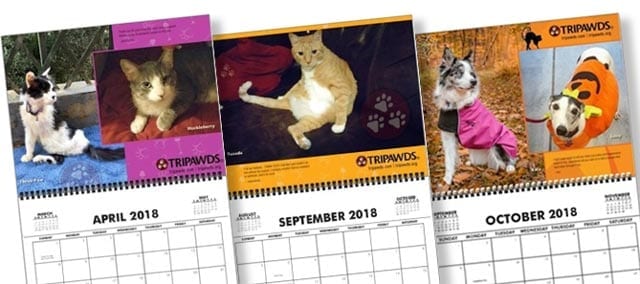 ---
Didn't submit your photo in time? Create your own custom pin-up calendar!
Upload your own photo and personalize the text of these calendar prints in the Tripawds Gift Shop. (See bottom of page.) Or…
Don't miss all the other fun Tripawds apparel and gifts, and check out the Tripawds Hoppy Holidays Shop for greeting cards, ornaments and more. Browse all designs here.